Best Budget Gaming PC Under 500 With Benchmark
Best Gaming PC Under $500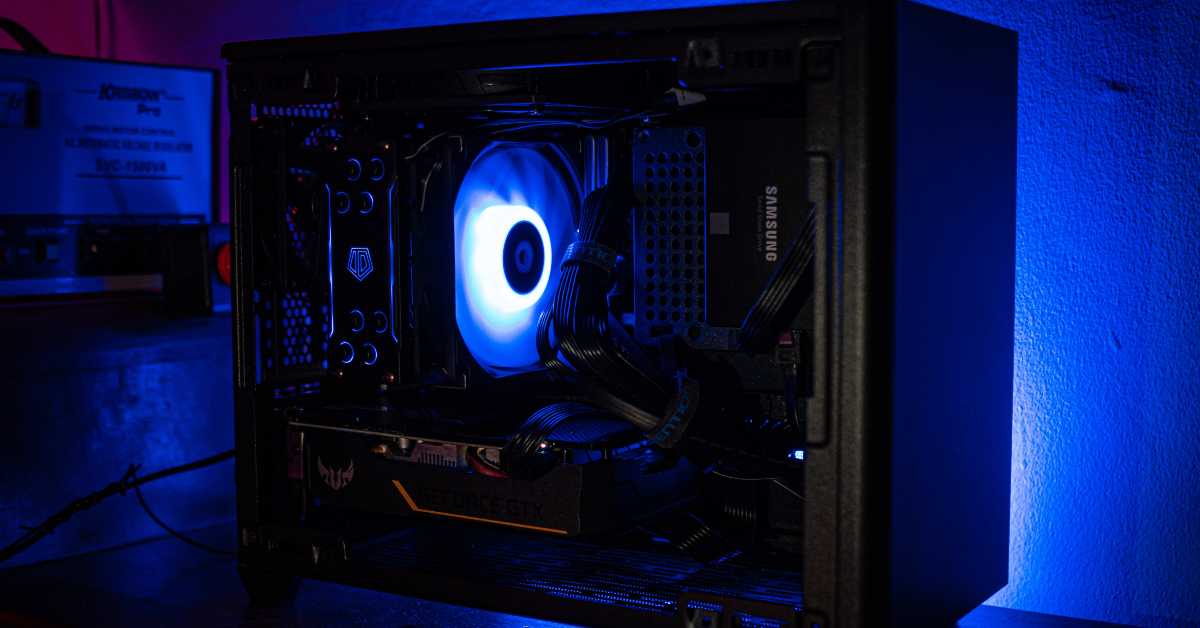 $500 is the least and should be the minimum budget for investing in a gaming PC. A Gaming PC under 500 is the cheapest system you can have with a dedicated graphics card in it. This build targets to play games on 1080P resolution with 60+fps on medium to high settings in most AAA and FPS games. However, $500 is a budget that you don't have many options to choose the different parts for this PC. But I also did provide some alternatives if you are not able to get your hands on them.
All the components are used in this Gaming PC are compatible with each other and will not trigger any bottlenecking issue. I give detailed overviews of all the components and discuss why I choose them and which factors you should focus on before picking any part. So that if you don't want to use the part that I suggest, at least now you know the facts that can help you search for the components in the market.
Components List For Gaming PC Under 500
CPU: Intel I3 10100 or 10100F
MOTHERBOARD: Asus Prime B460M-A
RAM: Team T-Force Vulcan Z 16GB
GPU:
STORAGE: Crucial MX500 500 GB
PSU: EVGA BQ 500W
CASE: Cougar MG130-G
Check Current Price Of $500 Gaming PC Parts On Amazon
CPU (Intel)
Intel I3 10100 or 10100F

4.7

 out of 5 

(145 ratings)

CHECK PRICE
CPU (AMD)
AMD Ryzen 3 3100

4.7

 out of 5 

(2,548 ratings)

CHECK PRICE
MOTHERBOARD (Intel)
Asus Prime B460M-A

4.6

 out of 5 

(196 ratings)

CHECK PRICE
MOTHERBOARD (AMD)
ASRock B450-M Pro4

4.6

 out of 5 

(3,948 ratings)

CHECK PRICE
MEMORY
Team T-Force Vulcan Z 16GB

4.8

 out of 5 

(5,985 ratings)

CHECK PRICE
GRAPHICS CARD
Zotac GTX 1650 Super

4.7

 out of 5 

(533 ratings)

CHECK PRICE
STORAGE
Crucial MX500 500 GB

4.8

 out of 5 

(67,743 ratings)

CHECK PRICE
POWER SUPPLY
EVGA BQ 500W

4.7

 out of 5 

(1,119 ratings)

CHECK PRICE
CABINET
Cougar MG130-G

4.6

 out of 5 

(149 ratings)

CHECK PRICE
Components Overview
CPU: Intel Core I3 10100
Key Features
| | |
| --- | --- |
| Cores | 4 |
| Threads | 8 |
| Base Clock | 3.60 GHz |
| Boost Clock | 4.30 GHz |
| Cache | 6 MB |
| Max Memory | 128 GB |
Intel Core I3 10100 is the budget-friendly processor currently in the market yet provides you a decent gaming performance. The i3 10100 is about as lowest as I can recommend you to go for a gaming CPU. One thing you should look at in a gaming CPU is core count. Up until a few years ago, dual-core was considered a decent core count for gaming. That is not the case today. 4 Cores is the bare minimum, especially in modern games you'd want to have on your PC.
However, there is another version of this processor is core i3 10100F. The only difference between these two is that 10100 has integrated graphics while the 10100F is not, making it a couple of bucks cheaper than 10100. Performance-wise both are the same. In our case, we don't need integrated GPU anyway, so that is not a big deal for us. Overall quite a decent and value for money processor for gaming.
CPU Alternatives
Talking about alternatives, Ryzen 3 3100 also seems to best fit for this gaming pc under 500 budget. On paper, both Intel i3 10100 or 10100F and Ryzen 3 3100 are certainly similar. But there are some little differences and have pros and cons from both sides. In terms of price, both Ryzen 3 3100 and Intel i3 10100 cost you around anywhere from $100-$120. But Ryzen 3 3100 most of them may cost you more due to high demand and low in stock. Moreover, Ryzen also gives you some extra more than Intel. Also, the stock cooler Ryzen provided is much better than the intel stock cooler.
Key Differences Ryzen 3 3100 Vs Intel I3 10100
| | Ryzen 3 3100 | Intel I3 10100 |
| --- | --- | --- |
| Boost Frequency | 3.9 GHz | 4.3 GHz |
| L3 Cache | 16 MB | 6 MB |
| Architecture | 7nm | 14nm |
| Overclock | Yes | No |
| PCI-E version | 4.0 | 3.0 |
| Memory Clock | 3200 | 2666 |
| Cooler | Wraith Stealth Cooler | Stock Cooler |
So which one should you pick? Here is the quick answer, out of the box, the 3100 will give you better performance than 10100 (up to 20-25%). And this performance gain really helps when you do some CPU-heavy tasks such as video editing, streaming, zip, unzip files, etc. But what about gaming performance? In terms of gaming both perform almost the same. But some games I3 10100 give you 1-5% extra fps compared to 3100. Again, depending on the game both CPUs can outperform each other.
Motherboard: Asus Prime B460M-A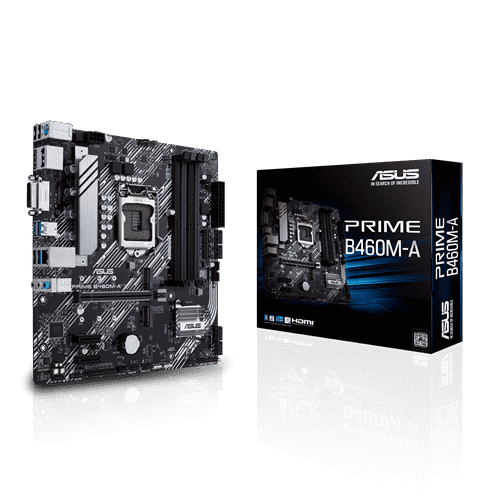 Key Features
Socket
LGA 1200 10th Gen Intel Core
Memory
4 slot up to 128GB 2933Mhz
Graphics
1 x PCI-e 3.0
1 x Display port
1 x HDMI
1 x DVI-D
Storage
2 x M.2
6 x SATA
USB Ports
6 x USB 3.2 Gen1 Type A
6 x USB 2.0
As for the motherboard, you can use any B460 or H410 series motherboard for this build. Considering our $500 budget, we definitely had to choose a motherboard that doesn't break your pocket. So, for this build, I pick up the Asus Prime B460M-A. It'll cost you around $100-120. This is a solid value-for-money motherboard at this price range. Even though it is a budget motherboard, still offers you all the basic and necessary feature you are going to need. Also gives you plenty of options for future upgrades.
Why this one? Honestly, when you are on a low budget, any decent motherboard can get the job done. However, there is something that a budget decent motherboard can be worth the money to spend on than a cheap motherboard. Usually, the differences are like the build quality, how many extra ports it offers, the VRM, overclocking capabilities (CPU overclock and GPU overclock), how many M.2 or PCI-e slots, etc. Luckily Asus Prime B460M-A offers all the necessary features.
Motherboard Alternatives
For Intel, the MSI B460M-A pro is the perfect alternative for the Asus Prime B460M-A. Price and features wise both are pretty much the same. You'll not face any issue if some reason you can't get your hands on Asus and decide to go with MSI. The cons for the MSI is you only get 2 memory slots up to 64Gb, 1 m.2, No Display port so only HDMI. Overall both are great.
For AMD, if you want to build the system with Ryzen CPU then the ASRock B450-M Pro4 would be a solid pick. This motherboard is a great balance between features or performance and cost. It is a Micro-ATX motherboard. You got your AM4 socket, you get 3 x PCI-e slots, 4 memory slots, 2 m.2 slots, and a decent amount of IO's. Overall a great budget mother for AMD processors.
Graphics Card: Zotac GTX 1650 Super
Key Features
| | |
| --- | --- |
| CUDA Cores | 1280 |
| Base Clock | 1530Mhz |
| Boost Clock | 1750Mhz |
| Memory | 4GB GDDR6 |
| Memory Speed | 12Gbps |
| Architecture | Turing Shaders |
GTX 1650 super might not be the latest and greatest card in the market. But on a $500 budget gaming build, GTX 1650 super is one of the good graphics cards for 1080p gaming at 60+ frames on mid to high settings. For most of the games, it'll get the job done and be able to deliver a solid 60FPS. Of course, for those who mostly play the latest AAA titles, this graphics card can struggle to deliver 60+fps at high settings. You may need to lower the overall graphics setting from the game. But if you are more on playing FPS titles at Full HD settings, this is one reason to choose the 1650 super.
RAM-Storage-PSU-Cabinet
Memory
Key Features
| | |
| --- | --- |
| Frequency | 3000 MHz |
| Bandwidth | 24,000 MB/s |
| Heat Spreader | Aluminium heat spreader |
For a gaming PC, 8Gb is the bare minimum amount of memory that you must want to have on your system. With that kept in mind and a little bit making ourselves future proof, I pick 2 x 8Gb total of 16Gb memory from Team T-Force. Its a Team T-Force Vulkan Z 16GB DDR4 3000Mhz memory.
Again, you can pick any 16Gb DDR4 memory if you can get it cheap enough. Just make sure don't go beyond 3000Mhz because the B460 motherboard doesn't support more than 2933Mhz. So that would be a waste of money.
Storage
Key Features
| | |
| --- | --- |
| Form Factor | 2.5 inch |
| Interface | SATA 6Gb/s |
| Read | 560 MB/s |
| Write | 510 MB/s |
For Storage, I choose Crucial MX500 500GB SATA SSD. Although 500GB is not enough for a gaming PC, because you can't store as many games compared to 1TB SSD storage. Considering our budget, 500GB is okay for now. You can always upgrade the storage at any time in the future. The reason behind choosing an SSD over HDD is SSD is super fast and gives you much better performance than HDD. Also, you should always prioritize SSD nowadays.
Power Supply
The overall power consumption is around 250-300W. So based on that a 500W power supply is more than enough for this gaming PC. It is an EVGA BQ 500W. An 80+ bronze semi-modular power supply. I always recommend, don't cheat, at least on a power supply. Because it is what powers everything in your PC. We could go with a cheap 400W power supply from a cheap brand because our power consumption is not that high. But keep in mind that a cheap power supply can also harm your component in the long term.
Cabinet
Key Features
| | |
| --- | --- |
| Form Factor | Mini Tower |
| Motherboard Support | Mini ITX or Micro ATX |
| Front IO | USB3.0 x 1, USB2.0 x 1, Mic x 1 / Audio x 1, Reset Button |
| Maximum Fans Support | 6 |
| Water Cooling Support | up to 280mm |
Cougar MG130-G is a Mini-tower cabinet. Perfect for Mini-ITX and Micro-ATX motherboard. When choosing a cabinet always make sure that airflow inside a cabinet is good. Otherwise, it can increase your CPU and GPU temperature. Also, the motherboard you are using should be fitted inside the cabinet. This cabinet can support up to 5 x 120mm or 4 x 140 mm cooling fans. Talking about water cooling in the cabinet, it can support up to 280mm AIO. Overall a great cabinet for this build
Overview Of This $500 Gaming PC
You got a general overview of the components. Now let's talk about the overall build. For the $500 budget, this is not a super great PC when it comes to gaming. There are some more extra resources that could've been added if we were not limited to only a $500 budget. For example in storage and the graphics card. But still, if you are a complete beginner in gaming, this is a gaming PC that can introduce you to PC gaming without any problem.
How Good This $500 Gaming PC Can Perform? With CPU like Intel I3 10100 paired with GTX 1650 super can allow you to play most of the popular titles like Fortnite, Overwatch, Valorant, Apex Legends, etc on max settings at 60+ frame rates.
How Many Upgrade Options Do You Have? There are tons of things you can upgrade to this PC later down in the future. As I said we put limited 500GB storage. The motherboard has enough SATA ports, so can put one more 500GB or 1TB SSD in this build. Later down the line, you can also upgrade your CPU with I5 or I7. Even the GPU can swap with 1660 or 1660ti.
Can You Overclock This PC? If you are using Intel CPU, then you are not able to overclock. Because I3-10100F doesn't support overclocking. For your reference, Intel's only K series can be overclocked. On the other hand, if you are using a Ryzen CPU you can easily overclock it. Although overclocking is not recommended if you are a beginner, however, if you want to overclock you can follow our guide on overclocking CPU and GPU.
Gaming Benchmarks
Here is the benchmarks of this $500 gaming PC.
All Games are tested at 1080p resolution at high settings. For those games which frame rates are below 60fps and modern AAA titles are tested at medium settings. If you want to test some more games, you can check online tools like howmanyfps.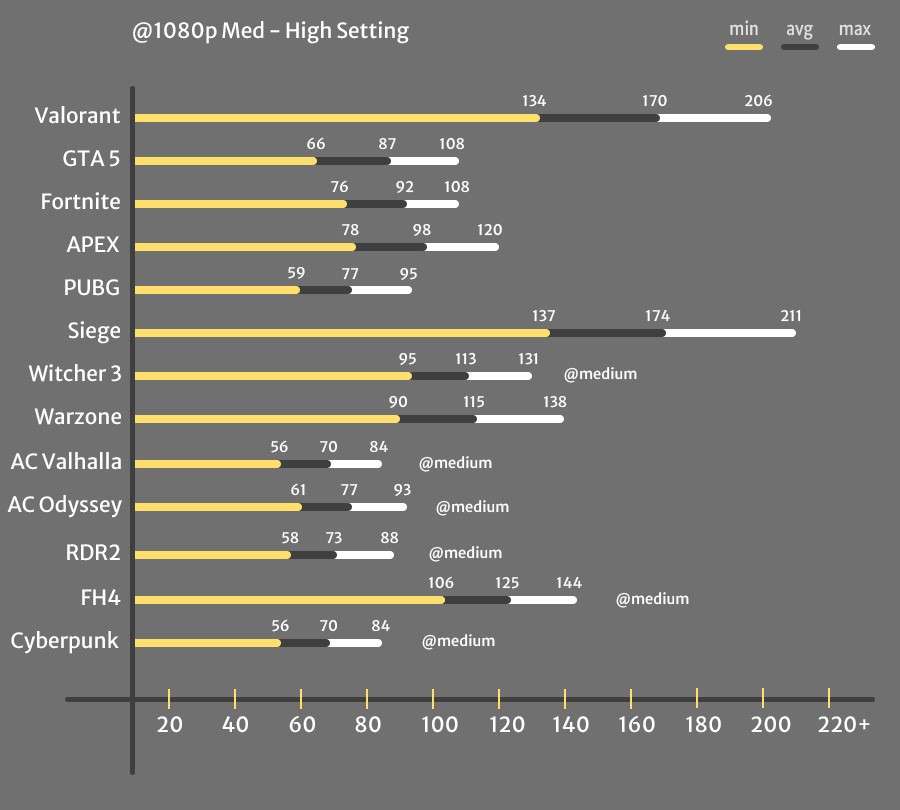 Peripherals And Accessories For This Cheap Gaming PC Under $500
Here are some PC peripherals you can buy along with your new $500 gaming PC. All the peripherals such as monitor, keyboard, gaming mouse come at a budget-friendly price. Also, if you want the best gaming keyboard under $100, you can also check our list here.
Conclusion
As you can see from the benchmarks, this gaming PC under 500 dollars can run pretty much all the popular FPS games at 60+ fps. Also, some of the latest AAA titles can run 60 fps at medium to high settings. In the future, if you want, you also have the option to upgrade your PC. Compared to the $500 gaming with the latest-gen consoles like PS5 and Xbox X, this PC gives you much better performance. As the consoles are locked at 60fps but with this PC you get more than 60, which is a good thing I guess.